Pointe shoes are different from ordinary soft-soled exercise shoes. Its front part uses special glue to stick the cloth layer by layer and solidify it to form a hard toe cap, and there is a small flat surface at the front end; and there is a rubber shoe plate in the sole. There is a leather bottom outside. The ballerina stands up with the help of the shoe plate, and uses the small flat surface of the toe to fix the center of gravity.
Composition Of Dance Shoes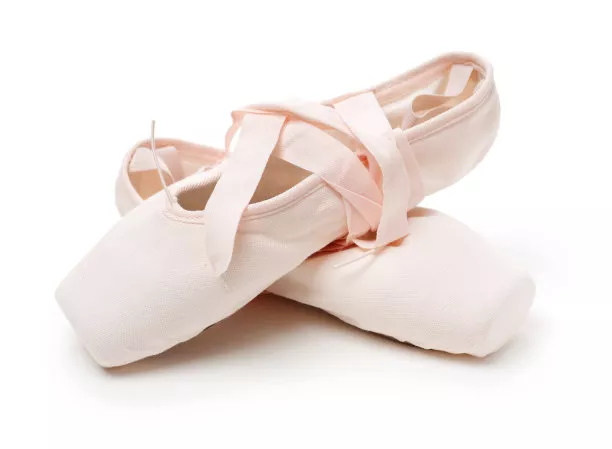 LAST: It is a model for making ballet shoes. The shape of the last is made according to the shape of the actor's foot. The usual shoe last is the most important factor for the comfort of the toe cap and the inside of the shoe. Different lasts are available for the size and width of a particular model.
BOX: The toe cap is the part that covers the tip of the toe, helping actors to stand on the tip of the toe.
VAMP: refers to the part from the front FLATFORM to the instep strap.
THROAT: Viewed from above, this part is the part that allows the feet to rise and fall flat, and shows the instep.
DRQWSTRING/BINDING: On the edge of the upper instep, it provides toughness to the upper. Tightening the laces can make the toe fit better to the shape of the foot.
PLATFORM: At the forefront of the toe. Actors rely on this surface to stand on tiptoe.
CROWN: Refers to the vertical height from the upper to the sole.
PLEATS: Located at the bottom front of the shoe. The fabric is pleated here and embedded in the sole.
SIDEQUARTERS: The cloth portion on the side of the shoe, stitched at the heel.
SOLE: External leather sole for traction. The sole is stitched to the upper on the inside of the shoe.
SHANK: It is the "backbone" of the whole pair of shoes. Located under the sock line, it is the bottom plate inside the shoe, and its function is to provide support for the arch of the foot. This part is usually soft or hard to suit the needs of different feet.