Professional Pancake Tutu
Introduction of Professional Pancake Tutu
Tutu's overall color adopts "red" design, matching the style of "Auspicious Clouds".
The decoration of the body and skirt refer to the appearance and color of the "Auspicious Clouds", adding some imagination to make the current effect.
Advantages of Professional Pancake Tutu
1. All decorations and rhinestones are manually cut and arranged, each piece is unique;
2. The full skirt is adjusted according to Tutu size to ensure the unity of fullness and weight;
3. The back is made of buckle design, which can be adjusted according to your budget.
Parameters of Professional Pancake Tutu
Color: Red,custom
---
Size: Children (110-150); Adults (155-175); Support tailor-made
---
Delivery time: 20-25 working days
---
Shipping method: EMS/China Post SAL (recommended); [SEA (long time); AIR (expensive)]
---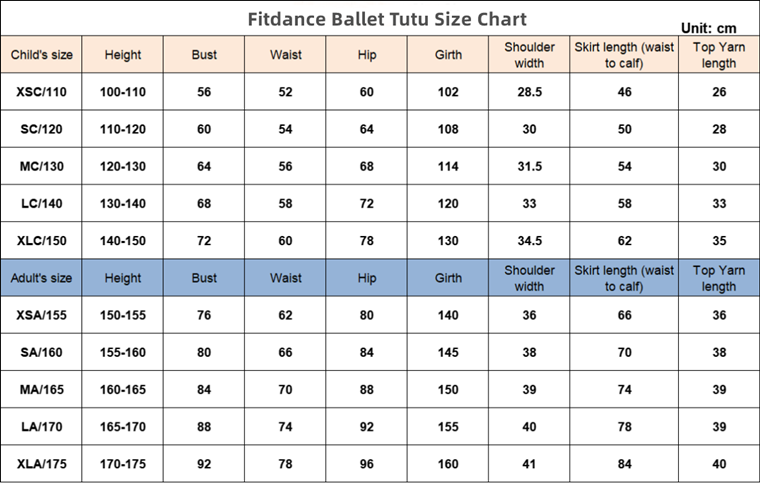 Customization of Professional Pancake Tutu
1. Support OEM/ODM customization, you can provide any style pictures and design drawings you want, we can produce them for you!
2. Support the customization of each Tutu size, you can provide what you need: Chest, Waist, Hip, Girth. We will make your exclusive Tutu!
After-sales service of Professional Pancake Tutu
When the product is completed, we will take a picture and send it to you to let you know its progress.
When it generates the shipping order number, we will send it to you as soon as possible and keep following up.
When it arrives at its destination, we will contact you again to remind you of the receipt.
After you receive it, if there is any product quality problem, we will negotiate with you according to the seriousness of the problem, full refund or partial compensation.
Q&A of Professional Pancake Tutu
Q1. What is the lead time for ordering single items and ordering large goods?
A1. The production cycle within 30 pcs (and the decoration is in stock) is about 15 working days (maximum 300 pieces can be produced in a month).
Q2. How to distinguish children's size from adult size?
A2. The size of children is distinguished by numbers 110-150, and the size of adults is distinguished by letters XS-XL.
Q3. How to store the ballet skirt? How to store it?
A3. When not in use, the ballet skirt needs to be tiled and packed in a ballet bag and placed in a clean, cool and dry place.
Q4. How do I bring a ballet skirt if I want to go out for a show?
A4. Use professional ballet bags.
Q5. What packaging products do you use?
A5. Carton boxes of different sizes are used according to the number of shipments, one piece / carton or multiple pieces / carton, to minimize transportation costs.